Sausage and porcini ragu with buckwheat polenta. Serving the ragu over polenta makes this a gluten-free meal! For more follow the hashtag #RachaelRayShow. Although a tad tight upon opening, this wine mellows to unveil a touch of licorice, tart cherry, and a dry spice rack concoction that echoes the mushrooms' depth, stands up to the spice of the sausage, and complements the creamy polenta.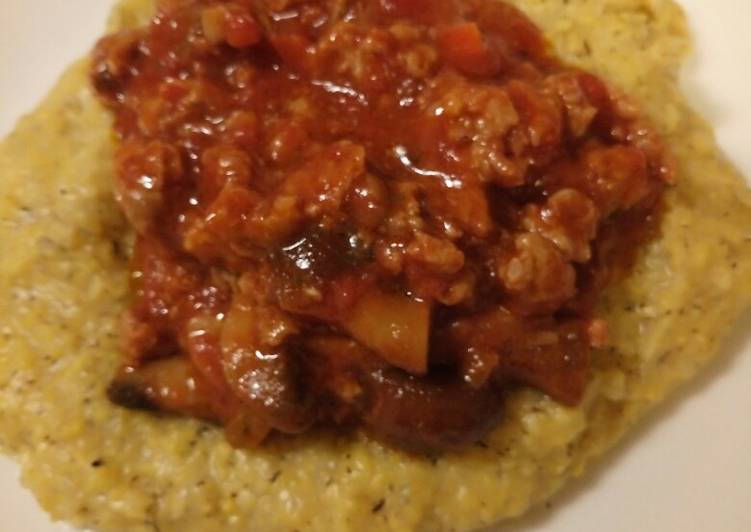 The polenta can also be made ahead, but you'll need to whisk in a bit of water to loosen it while you warm it on the stove. This simple, comforting dish is a great one to make for dinner parties; the ragù improves over time, so make it the day before, and reheat it just before serving. This ultra-comforting weeknight dinner skips the pasta in favor of a cheesy, creamy bowl of polenta as the base for a blanket of hearty sausage ragù. You can cook Sausage and porcini ragu with buckwheat polenta using 9 ingredients and 2 steps. Here is how you cook it.
Ingredients of Sausage and porcini ragu with buckwheat polenta
You need 250 g of polenta instant or normal.
You need of Onions, carrots and celery.
It's 300 g of sausage meat.
It's 200 g of or so of porcini.
Prepare 200 ml of tomato passata.
Prepare 200 ml of stock.
It's of Salt and pepper.
You need 50 g of butter.
You need of Olive oil.
In the meantime make a creamy polenta to serve it over. This dish is pure comfort food, and a dish you can make when you're looking to make the meat. Polenta is a classic north Italian staple, typically served with rich hearty sauces such as ragù. I used to wake up on Sundays to my mum cooking polenta.
Sausage and porcini ragu with buckwheat polenta instructions
Chop onion, carrots and celery. Fry gently in oil. Add sausage meat and chopped onions. Brown for about 10 mins. Add passata and stock, salt and pepper. Simmer stirring occasionally for about an hour..
The polenta. Follow packet instructions. Instant takes about 5-10 minutes. Normal a bit longer. Bring about 300 ml of water to the boil in a large pot add some salt. Turn the heat down. Very gently, stirring consistently, add the polenta. Cook following packet instructions. At the end of cooking, add knobs of butter and Parmesan (optional) serve the polenta with the ragu on top :).
For the ragù, heat the olive oil in a large frying pan over medium-low heat. Add the onion, celery and carrot and cook until softened but not coloured. Creamy polenta topped with a rich fennel, sausage & dill ragu. Pop over to Tesco Real Food for more tips for cooking polenta & plenty of easy dinner ideas. Then, using a wooden spoon to break it up, turn the meat over and cook the other side for a few minutes, until browned all over.