Apple & Chicken Crock Pot Pie. Apple Inc. is an American multinational technology company headquartered in Cupertino, California, that designs, develops and sells consumer electronics, computer software, and online services.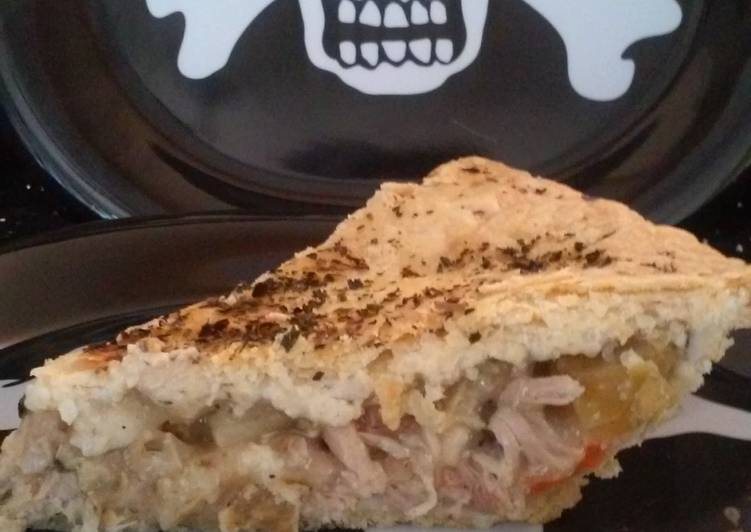 You can have Apple & Chicken Crock Pot Pie using 24 ingredients and 15 steps. Here is how you cook that.
Ingredients of Apple & Chicken Crock Pot Pie
Prepare of Pie Filling.
It's 1 of Crockpot.
You need 1 of Large Stirring Spoon.
It's 1 of Pound Pre-Cooked Chopped Boneless Skinless Chicken Breasts.
You need 6 cup of Chicken Broth or Equivalent Chicken Bullion (be sure to add appropriate amount of water if using bullion).
It's 2 of Large Chopped Red Potatoes.
It's 2 of Large Fuji or Red Apples.
It's 1/2 cup of Chopped or Diced Celery.
Prepare 1/4 cup of Chopped Carrots.
Prepare 375 of Mililiter (equivalent to half a bottle) of Pink Moscato Wine.
You need of Black Peppercorns.
Prepare of Sea Salt.
You need of Minced Garlic.
It's of Parsley Flakes.
You need 5 tbsp of Cornstarch for thickening.
It's 1 of Whole Bay Leaf.
Prepare of Pie Crust.
It's 1 of Pyrex Pie Dish.
Prepare 1 of Rolling Pin.
You need 4 cup of All Purpose Flour.
You need 1 1/3 cup of Shortening.
You need 3 tsp of Sea Salt.
Prepare 2 of Egg Yolks.
Prepare 6 tbsp of Ice Water.
Apple & Chicken Crock Pot Pie instructions
Pour flour in bowl and stir in sea salt..
Seperate 2 Egg Yolks from Whites and add the yolks into the bowl..
Melt the shortening, add into the bowl, and mix well with the other pie crust ingredients..
Slowly mix in ice water a teaspoon at a time..
Knead dough, roll into a ball, then place into fridge to cool..
Take and add all pie filling ingredients into your crockpot.
Stir ingredients together and cover on high heat for 3hrs stiring every 15-20min or so..
You will know the filling is done cooking once it has spread its delightful aroma throughout your home..
Cut your ball of dough in half and roll out using a large rolling pin..
Place over pyrex pie dish and cut off excess dough from edges..
Pour in your pie filling.
Roll out the other half of dough and cover the top of the pie with it. Pinch the edges to seal it all together..
Using a knife make 4. Small slits in the center of pie so it can breathe while baking..
Spinkle the top with Parsley Flakes and Pepper..
Place Pie on cookie sheet and bake on center rack at 350°F Fahrenheit for 40-45 minutes or until crust appears golden and flakey..