Halloumi with Cauliflower Couscous & Honey-Harissa.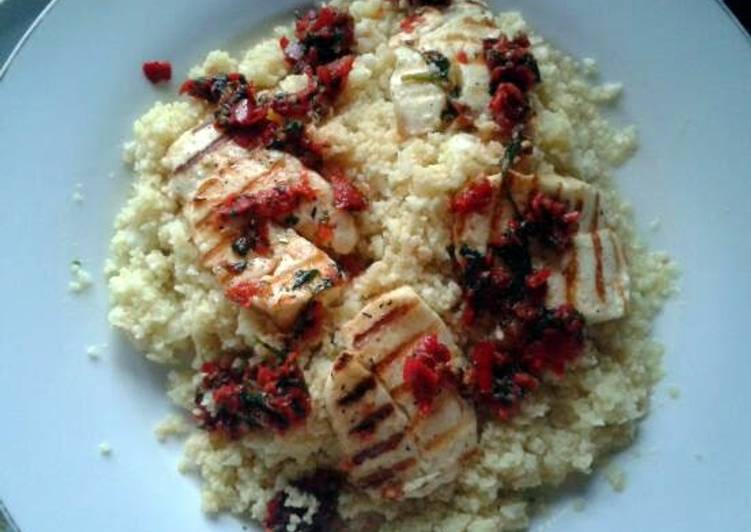 You can cook Halloumi with Cauliflower Couscous & Honey-Harissa using 8 ingredients and 11 steps. Here is how you achieve that.
Ingredients of Halloumi with Cauliflower Couscous & Honey-Harissa
You need 4 cup of cauliflower, roughly chopped (one small head).
You need 1/2 cup of uncooked couscous.
You need 1 1/2 cup of vegetable stock made with 2 tsp of vegetable bouillion powder).
Prepare 1 packages of Halloumi cheese.
You need 2 1/2 tbsp of olive oil.
Prepare 1/2 of lemon, cut into wedges.
It's 4 tbsp of harissa (either store bought or homemade - see my recipe attached in the comments on the cover photo of this recipe).
You need 1/2 tbsp of clear honey.
Halloumi with Cauliflower Couscous & Honey-Harissa instructions
Drain and slice the halloumi and leave the slices on a piece of kitchen paper to dry..
In a food processor, pulse the raw cauliflower until it resembles couscous..
Heat the olive oil in a medium pot on a medium heat..
Add the cauliflower and stir it for five minutes, watching that it doesn't catch or burn..
Transfer the cauliflower to a bowl, add the couscous and the stock, then cover it with plastic wrap and leave it to stand for five to ten minutes while you cook the halloumi....
Put a cast iron griddle onto a medium high heat..
Mix the harissa with the honey in a small bowl..
Brush half a tablespoon of olive oil over both sides of the halloumi, place the slices into the hot griddle and cook for a minute on each side..
Uncover the cauliflower couscous, fluff up with a fork and spoon onto plates..
Just before taking the halloumi out of the griddle, sqeeze over a little lemon juice..
Use tongs to place the halloumi on top of the couscous, then spoon over a desiref amount of the harissa sauce (taste it before you use to determine how much you will need as some are spicier than others).