Red Velvet Cake FUSF.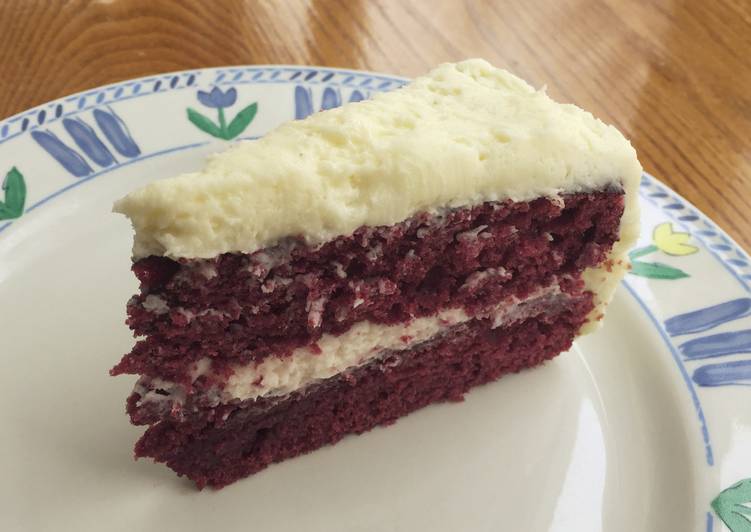 You can cook Red Velvet Cake FUSF using 17 ingredients and 7 steps. Here is how you cook that.
Ingredients of Red Velvet Cake FUSF
Prepare of Cake.
Prepare 1/2 cup of /113 grams butter, at room temperature, plus 2 tablespoons to prepare pans.
It's 3 of tablespoons/22 grams cocoa powder, divided.
Prepare 1 1/2 of cups/300 grams sugar.
It's 2 of eggs.
It's 2 of teaspoons/10 milliliters vanilla.
It's 2 of tablespoons/30 milliliters red food coloring.
It's 1 teaspoon of salt.
You need 1 of teaspoon/5 grams baking soda.
You need 2 1/2 of cups/320 grams flour, sifted.
Prepare 1 of cup/236 milliliters whole buttermilk.
It's 1 of tablespoon/15 milliliters vinegar.
Prepare of Icing.
Prepare 5 cups of sifted confectioners sugar.
You need 1 teaspoon of vanilla extract.
Prepare 2-3 tablespoons of buttermilk.
Prepare 2 sticks of unsalted butter.
Red Velvet Cake FUSF instructions
Heat oven to 350 degrees. Prepare three 9-inch cake pans by buttering lightly and sprinkling with 1 tablespoon sifted cocoa powder, tapping pans to coat and discarding extra cocoa. (You may choose to use just 2 pans, note below.).
Cream butter and sugar together. Add eggs one at a time and beat vigorously until each is incorporated. Mix in vanilla..
In a separate bowl, make a paste of the remaining 2 tablespoons cocoa and the food coloring. Blend into butter mixture. (I found 1 teaspoon is adequate).
Sift together remaining dry ingredients. Alternating in 2 batches each, add dry ingredients and buttermilk to the butter mixture. In the last batch of buttermilk, mix in the vinegar before adding to the batter. Mix until blended..
Divide batter among 3 pans and bake for about 20 to 25 minutes. Cool on a rack completely. (Note: I use 2 pans and cook for 30 minutes.).
To assemble, remove 1 cake from its pan and place flat side down on a serving platter. Drop about 1 cup of icing onto cake and, using a flat spatula, spread evenly over top. Remove the second cake from its pan. Place flat side down on top of first layer. Use remaining frosting to cover top and sides of cake..
Icing: Place butter in bowl of standing mixer with whisk attachment. Whisk for one minute. Add sugar one cup at a time. With each addition whisk until incorporated, scraping down sides of the bowl. Turn mixer to high for 20 seconds. Repeat with each addition. Add milk as needed and then vanilla on low speed. Whisk on high speed for another 20 seconds..