Crockpot BBQ Chicken. Doctor a bottle of barbeque sauce with vinegar, brown sugar, garlic powder, and red pepper flakes and pour it over chicken in a slow cooker for an easy and delicious main course. How To Make Crockpot BBQ Chicken - Step by Step. Place the chicken breasts in the bottom of the slow cooker.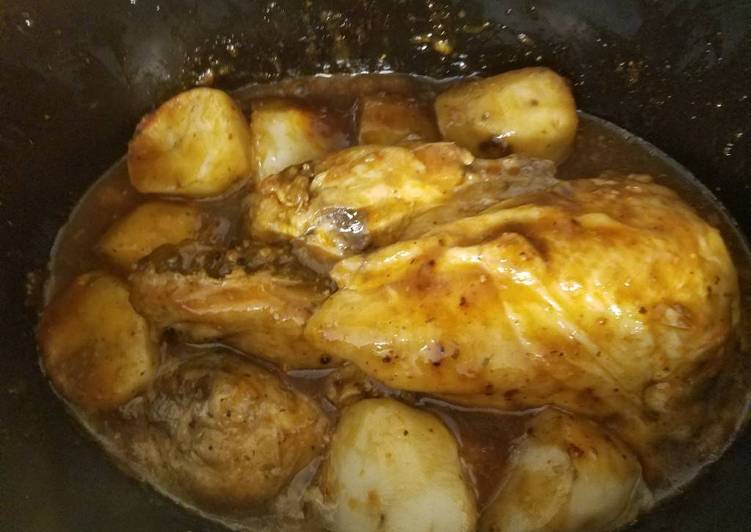 Try slow cooker BBQ chicken and rice. Eat it directly out of the slow cooker. What to Serve with Crockpot BBQ Chicken. You can have Crockpot BBQ Chicken using 10 ingredients and 10 steps. Here is how you achieve that.
Ingredients of Crockpot BBQ Chicken
You need 1 of whole chicken.
You need 1 cup of bbq sauce.
You need 1/4 cup of Italian dressing.
It's 4 of heaping tablespoons brown sugar.
It's 2 of capfuls mesquite liquid smoke.
You need 1 of capful hickory liquid smoke.
It's 5 dashes of sea salt.
It's 25 dashes of mrs dash seasoning.
Prepare 2 dashes of ground pepper.
You need 1 tablespoon of stirfry sauce.
Creamy Cucumber Salad would be delicious with this chicken. For crockpot BBQ chicken and vegetables, pair this recipe with a side of Roasted Broccoli and Carrots. Zesty Slow Cooker Chicken Barbecue Zesty Slow Cooker Chicken Barbecue. Directions: Printable ingredients list and directions at bottom of the page.
Crockpot BBQ Chicken instructions
Turn crockpot on low.
Place chicken in, upside down.
In a bowl, mix the rest of the ingredients.
Taste sauce, adjust if needed to your taste.
Pour half on chicken and spread on top.
Turn chicken right side up.
Pour rest of bbq sauce on chicken.
Spread all over chicken.
Put lid on and cook 3 to 4 hours on higj or 4 to 6 hours on low (until down).
Baste with sauce on bottom whenever you remember (I basted 3 times and cooked on low).
Season chicken breast lightly (a small pinch per breast) with some sea salt and place in your crockpot. In a mixing bowl combine BBQ sauce, Italian dressing, brown sugar and Worcestershire sauce. Add chicken and turn to coat. Chicken is done when cooked through and easy to shred Sweet Baby Ray's Crock Pot Barbecue Chicken. I found this on a blog called "Stick a Fork In It" and I am posting for safekeeping.