Crock Pot Honey Sesame Chicken. Sweet, savory and a little spicy, this easy Asian inspired Crock Pot Honey Sesame Chicken has a balance of flavor combinations. Simply throw everything in the crockpot and you're set for a family-friendly meal - it doesn't get easier than that! There's just one tedious part shredding the chicken.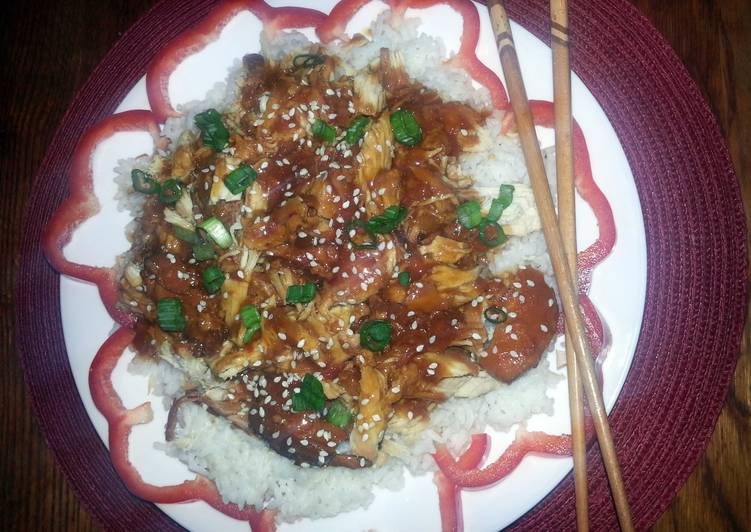 And this honey sesame sauce does exactly that, the chicken comes out moist and tender and not dried out at all. This Crock Pot Honey Sesame Chicken is amazing! One of my favorite slow cooker recipes. You can have Crock Pot Honey Sesame Chicken using 15 ingredients and 7 steps. Here is how you cook that.
Ingredients of Crock Pot Honey Sesame Chicken
You need of Crock Pot Chicken.
You need 6 of boneless, skinless chicken thighs or 4 breasts (2 lbs).
It's 1 dash of salt and pepper to taste.
It's 2 clove of garlic minced.
Prepare 1 cup of honey.
You need 1/4 cup of ketchup.
You need 1/2 cup of low sodium soy sauce.
You need 1/2 cup of diced onion.
It's 2 tbsp of vegetable oil or olive oil.
It's 1/4 tsp of red pepper flakes.
Prepare 4 tsp of cornstarch.
Prepare 1/3 cup of water.
Prepare 2 packages of instant rice (optional).
It's 1/2 tbsp of sesame seeds (or more).
You need 3 large of green onions or scallions.
I owe my mom for finding this recipe for me! I have been so busy back and forth from the hospital that she has been such a help in having dinner ready for me when I go home to feed my baby. She made this for dinner, and I kid you not, every single person in my family LOVED it! And I mean everyone… You can make this Crock Pot Honey Sesame Chicken with chicken thighs or breasts; I usually use chicken breasts because my family prefers white meat, but both will turn out equally well.
Crock Pot Honey Sesame Chicken step by step
Place chicken in crock pot and lightly season both sides with salt and pepper.
In medium bowl, combine onion, garlic, honey, ketchup, soy sauce, oil, and red pepper flakes. Pour over chicken. Cook on low 3-4 hours low or 2 hours on high..
Remove chicken to cutting board, leaving sauce. Shred chicken into bite-size pieces. Set aside..
Prepare rice according to instructions on package..
In small bowl, dissolve 4 teaspoons cornstarch in 1/3 cup water and add to crock pot sauce. Stir in to combine with sauce. Cover and cook in crock pot on high for ten more minutes, or until slightly thickened..
Add cooked rice to four plates, top with chicken and spoon sauce over the top. Sprinkle evenly with sesame seeds and green onions/scallions..
Enjoy.
If you use chicken thighs, be sure to trim off any excess fat before cooking. I like to serve this Honey Sesame. Remove chicken from crock pot, but reserve sauce in the pot. Shred chicken into bite size pieces. Serve chicken over cooked rice and spoon some sauce on top.