Butternut squash halloumi salad. Halloumi Salad with roasted butternut squash, spinach and quinoa, a tasty, filling salad. This fried halloumi salad comes with lightly spiced, roasted butternut squash, fluffy quinoa, baby spinach and a lemon honey dressing. This spiced butternut squash and halloumi salad recipe is a hearty autumn dish.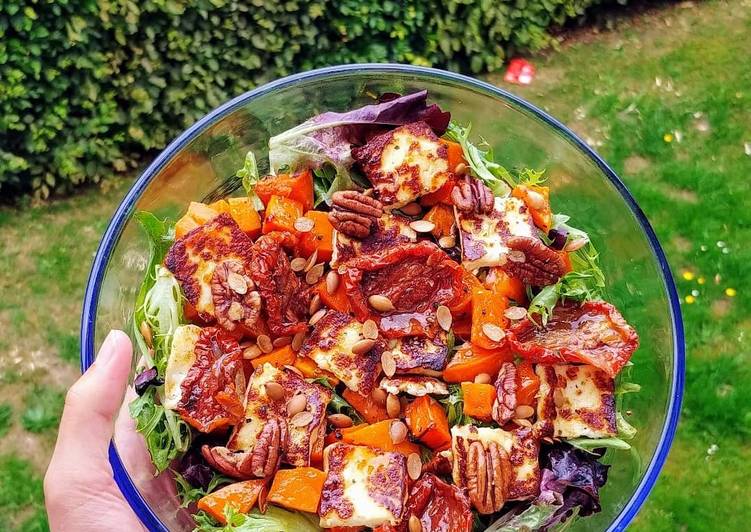 Salty halloumi and sweet, nutty roasted butternut squash come together in this warm halloumi butternut squash salad which makes a healthy It's one of my favourite cheese's - which is a tough gig, let me tell you - and is so versatile. This warm halloumi butternut squash salad is a slightly. Mouthwatering flavours & colours are combined in this warm seasonal salad. You can cook Butternut squash halloumi salad using 11 ingredients and 3 steps. Here is how you cook that.
Ingredients of Butternut squash halloumi salad
You need of Chopped butternut squash.
You need of Baby leaf salad.
You need of Grilled halloumi cheese.
You need of Dried tomato.
You need of Pecans.
It's of Butternut squash seeds.
Prepare of Dressing.
You need 2 tbs of Balsamic vinegar.
It's of Salt and pepper.
Prepare 1 tbs of olive oil.
You need 1 tbs of lemon juice.
Roasted beetroot and butternut squash add depth of flavour and a burst of colour to this delicious salad; chickpeas give it bite and warm halloumi cheese adds a salty edge. Maple Roasted Butternut Squash and Seared Halloumi Cheese SaladHow To Eat. This is a simple and very light salad with baked Butternut Squash. Try and you will love the taste of this salad!
Butternut squash halloumi salad instructions
Roast butternut squash cubed at 200 c for 20 minutes...
Wash the seeds,drain and roast as well...
Mix all and serve..
Reviews & ratings Average global rating Warm halloumi, roasted butternut squash, red onion and peppers, tossed in a harissa dressing and served on a bed of seasonal salad leaves. Place the butternut squash on a sheet pan. Place the arugula in a large salad bowl and add the roasted squash mixture, the walnuts, and the grated Parmesan. We enhance the flavor of boxed butternut squash soup with curry powder, then top it with irresistible halloumi cheese. Serve with warm whole-grain pita bread.